Alysse Musgrave
Exclusive Buyer's Broker – Dallas
Owner – HelpUBuy America
Full-time Exclusive Buyer's Agent since 1995
Bachelor of Science, Texas A&M University – 1988
Graduate, Sheffield School of Interior Design NYC – 2008
Best Selling Author of 4 books
Contributing Writer – Zillow Group
Board of Directors – National Association of Exclusive Buyer's Agents
Membership: National Association of Realtors, Texas Association of Realtors, Houston Association of Realtors, Metrotex Association of Realtors, National Association of Exclusive Buyer Agents, Consumer Advocates for American Real Estate
get started
Repeat business or referrals

In over 23 years of helping people buy homes in D/FW, Alysse Musgrave has not once represented a seller.
Not only does this position Alysse as an expert and industry leader in residential real estate, but it also guarantees that her clients will never have to worry about a conflict of interest when it comes to buying their next house. Alysse's unflinching honesty has earned her a stellar reputation with her client base, who appreciate the fact that her standards are often even higher than their own. Alysse can spot structural issues in a matter of minutes, and she will personally foot the bill if a house doesn't appraise or pass inspection. Whether she's training new agents or helping her clients find their next home, Alysse is uniquely well-versed in her field and utterly committed to providing an exceptional customer experience.

Alysse Musgrave is the broker/owner of HelpUBuy America and a graduate of Texas A&M University and the Sheffield School of Interior Design. She is a contributing writer for Zillow Group and the author of 4 books including the internationally acclaimed and best-selling "Buying a Home: Don't Let Them Make a Monkey Out of You!" now in its 6th edition. Her new book, "How to Turn $5,000,000 in Real Estate into $50 Cash" will be released this summer.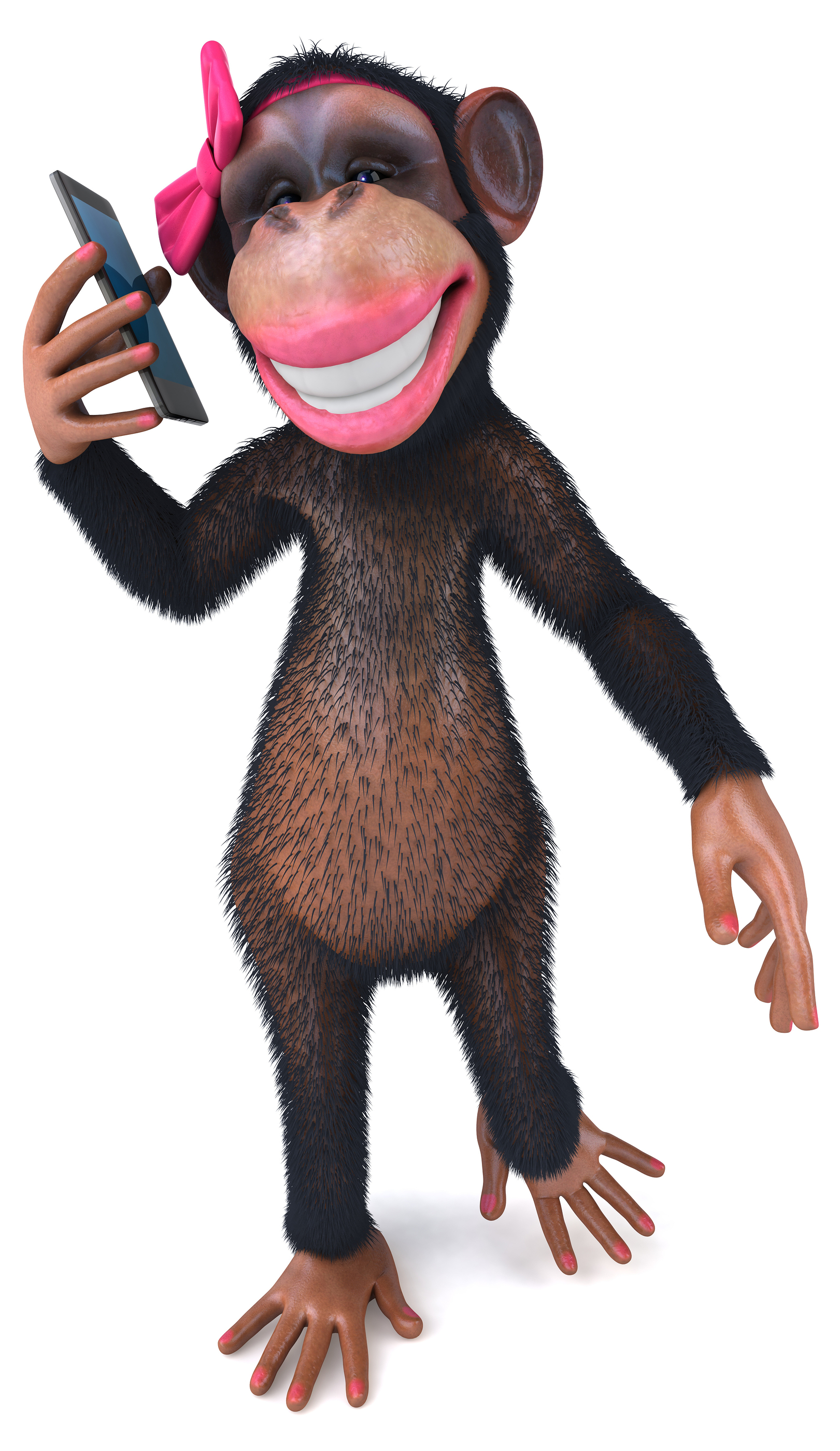 "In a real estate transaction, the buyer assumes most of the risk. It absolutely matters who represents you!"

From Best Selling Author & Consumer Advocate Alysse Musgrave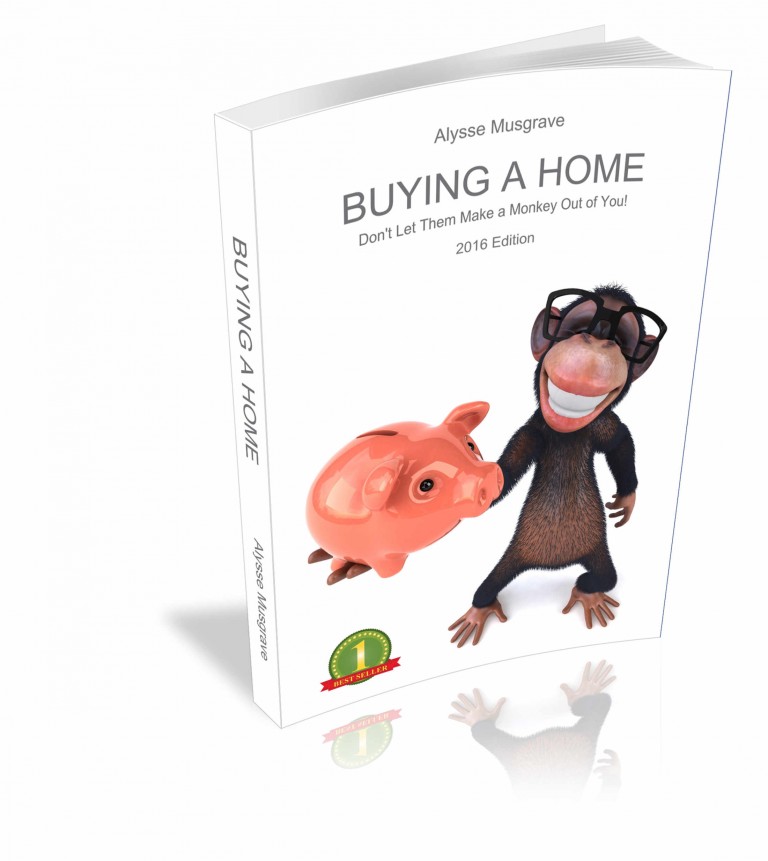 Buying a Home: Don't Let Them Make a Monkey Out of You! 6th Edition.
Learn how to buy a home without getting ripped off! Written as a guide for anyone in the market for a new home, "Buying a Home: Don't Let Them Make a Monkey Out of You!" shows how to avoid the financial traps and pitfalls that the real estate and mortgage industries have set for you. A #1 best seller on Amazon and B&N, and consistently ranks in the top ten selling books about real estate in a variety of publications.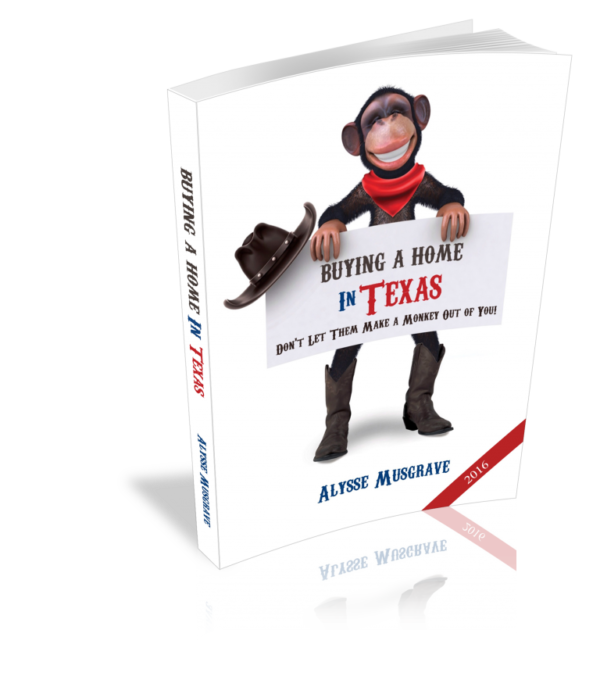 Buying a Home in Texas: Don't Let Them Make a Monkey Out of You!
The best selling book written with Texas homebuyers in mind! Learn how to buy a house without getting ripped off! Alysse Musgrave shows you how to avoid the financial traps and pitfalls that the real estate and mortgage industries have set for you.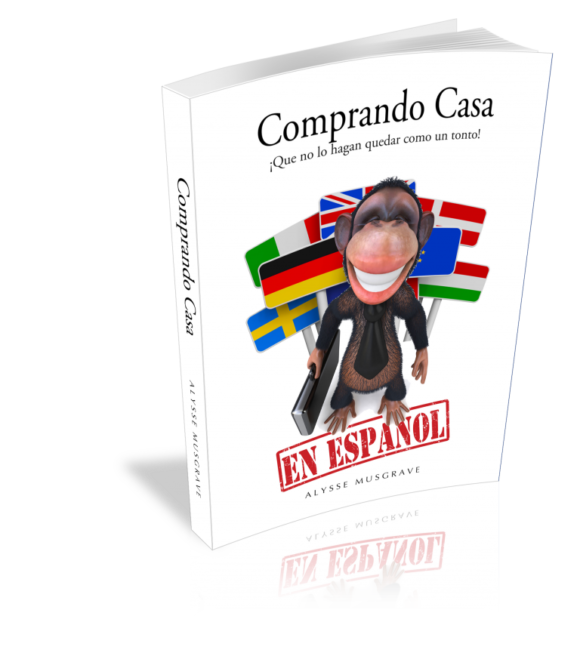 Comprando Casa: ¡Que no lo hagan quedar como un tonto!
¡Que no lo hagan quedar como un tonto! Alysse Musgrave, defensora de los consumidores y dueña de una de las Agencias Exclusivas para Compradores más antiguas y exitosas del país, le muestra cómo evitar las trampas y dificultades financieras que las industrias hipotecarias y de bienes raíces tienen preparadas para usted.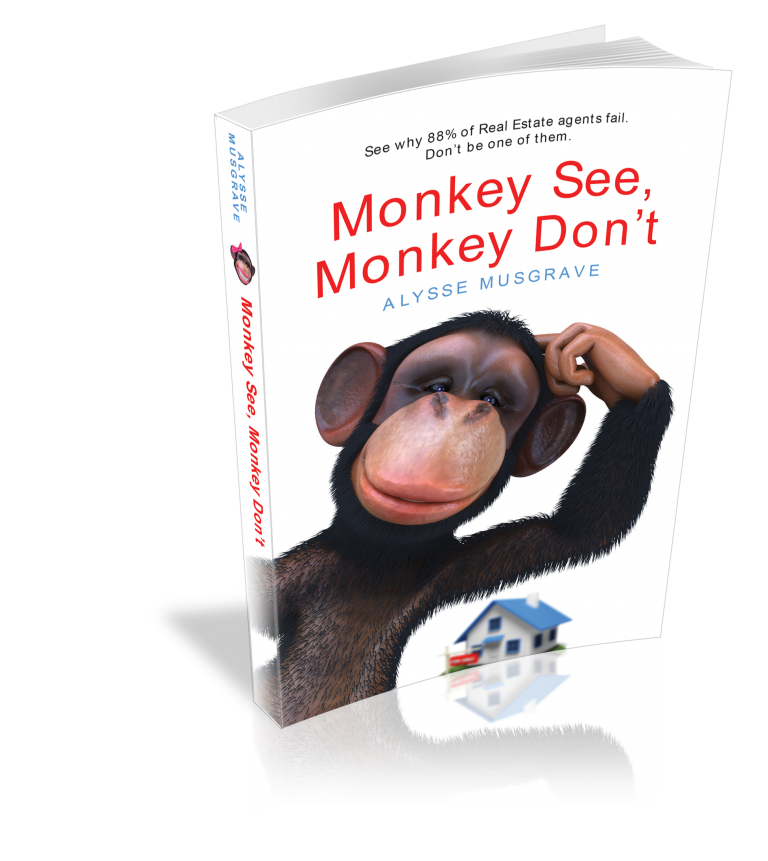 Monkey See, Monkey Don't!
"Monkey See, Monkey Don't" is written for anyone with a real estate license as well as those still contemplating a career in real estate sales. In her trademark, straight-to-the-point and brutally honest style, Alysse teaches you the newest, sanest and most respectable path to success with your real estate license, condensed to about 200 pages. It's a real estate career in a box.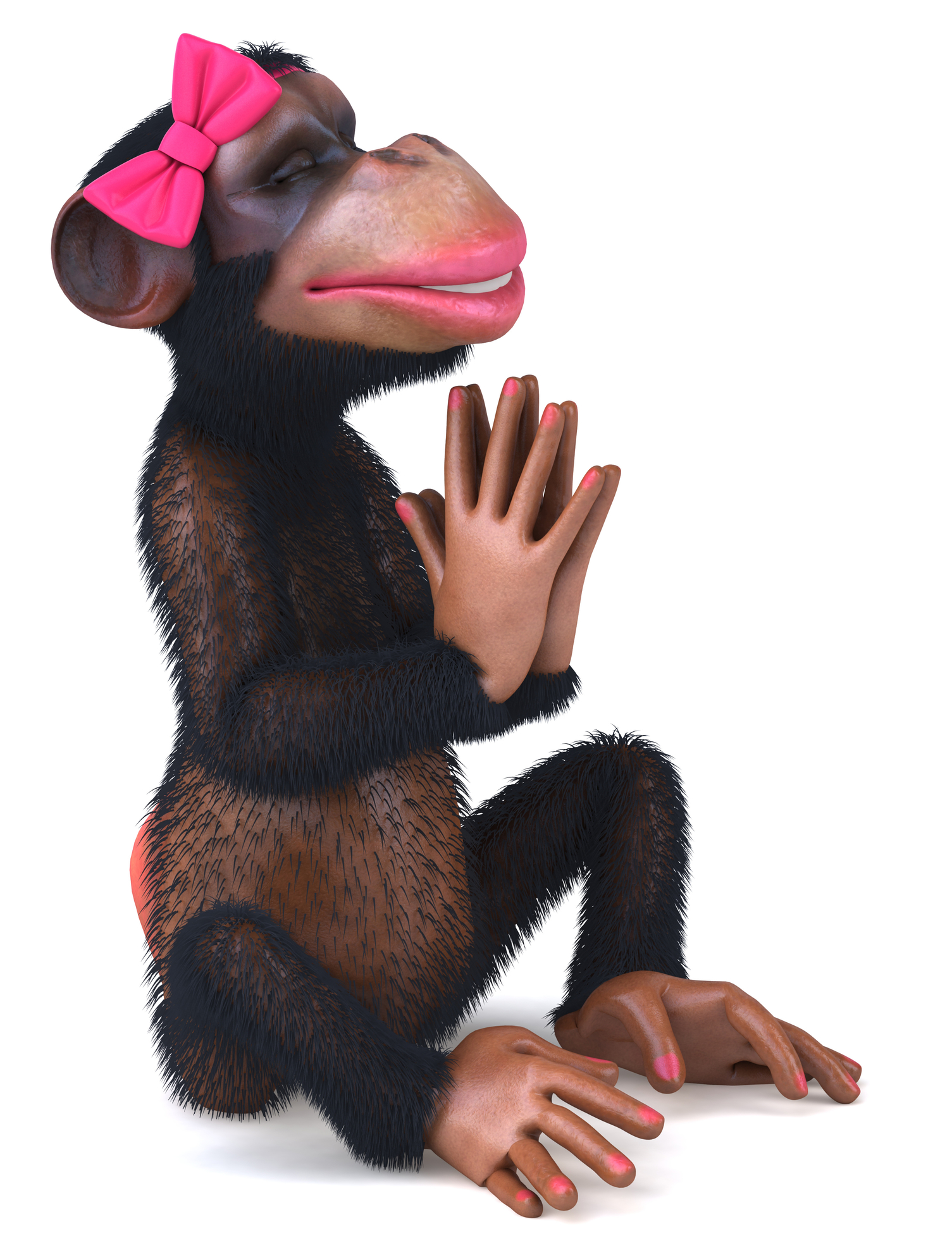 The home buying process is more fun when you like your EBA! Here are some fun facts about Alysse.
Alysse is a football lover (Texas Aggies & Dallas Cowboys).
Her daughter is a 2nd generation Aggie and works in sports broadcasting.
Alysse is instantly recognizable by her huge head of unruly curls. She jokes that she looks like a Chia Pet.
Alysse worked as a systems analysts after college. It was her one and only corporate job.
She has a laid-back, easy demeanor and has been known to laugh at her own jokes.
Alysse was born in Philadelphia but grew up in Houston. She and her family lived in Iran for 3 years and Alysse will be happy to teach you how to curse in Farsi.
Her interests include historical architecture, travel, live music, hiking, pilates, mid-century modern design,  and presidential history.
Alysse represents homebuyers all over Dallas/Ft. Worth and feels fortunate to have a steady stream of buyer/clients.

Please contact Alysse well in advance of your anticipated move date to discuss possible representation and to be added to her queue.

Testimonials
Alysse Musgrave has saved hundreds of buyers thousands of dollars on their home purchase. See what she can do for you!
Knowledgeable and responsive- Alysse helped us buy our first home and held our hands through the entire process. She acted in our interest and used deep experience in the real estate market to get us exactly what we wanted. Highly recommended.
Josiah Sandusky, Dallas
"Working with Alysse was such a great experience! She truly has the buyer's best interest in mind. As a first time buyer, she encouraged me to go with the least expensive house we looked at ($50k under budget!) because of its value, resale potential and flexible floorplan that could easily accommodate the "what ifs". She was so much fun to work with, like having a (very!) honest friend walk through houses with me. I'd highly recommend her to anyone in the DFW area!"
Amy Mohr, Ft. Worth
Let's Get Started
Your stress-free homebuying experience starts now! Simply complete the form below and Alysse will be in touch with you as soon as possible.